Attention: Affiliate Marketers, Bloggers & Entrepreneurs...
"Discover The Secret To HUGE Commission Checks And The Drag & Drop Simple Way To Build High Converting Affiliate Promotion And Product Review Pages In Just Minutes!"
Watch the video below to discover how to get 5X conversions on your next affiliate promotion..
4 Reasons Why You Need Commission Gorilla:
Affiliates that run bonus incentivized promotions out convert 'regular' affiliates 5:1 That means more commissions, increased buyer loyalty and often favorable terms from vendors.
Wave goodbye to complicated to edit templates, confusing WordPress plugins & themes. Build out your promotion pages fast with zero coding and clone high converting pages with a click!
Join now and we'll include FREE promotion page hosting with unlimited views & traffic for the lifetime of your account. That means you don't even need a domain or webhost to get started!
We built Commission Gorilla from the ground up to be super easy to use. Build pages quickly and easily with our true drag & drop editor with full customization and ready made blocks.
Why So Many Smart Affiliates Love Commission Gorilla

Bonus Incentivized Affiliate Promotions Are Proven To Out-Convert Standard Promotions By A Factor Of 5:1  
That's 5 Times More Sales & 5 Times More Revenue For You. The Only Downside (Until Now) Has Been The Amount Of Time It Takes To Build A Great Looking Promotion Page -
With Commission Gorilla You Can Do It In Just Minutes

...
And Here Are 4 Key Features We Think You'll Love Too!
You'll always be first to market with your promotions. Add pages to WordPress (with our free plugin), upload to a regular HTML site or simply let us host all your pages + bonus delivery pages
100% FREE!
Build out bonus blocks, store them in your bonus library for future use then just drag and drop them into your promotion page(s) - There are 4 styles to choose from and your bonus delivery pages are built automatically!
You can start promoting your offers the second you publish them with the built in share functions inside the dashboard. And you can encourage your visitors to send your pages viral with Facebook, Twitter and Google+
If you've created a high converting promotion page or you're running an offer in the same niche, you can simply clone a promotion page, switch out the affiliate link, edit as needed and start another promotion in seconds.
Commission Gorilla Built These Pages In Just Minutes!
If you just got started promoting affiliate offers yesterday (or you've been an affiliate for years) Commission Gorilla will help you create amazing looking promotion pages fast!


Commission Gorilla Built For Affiliates By Affiliates...
It's no secret that we both know and love this industry...  With 15+ years in the affiliate business and a proven track record that includes way over $10 million in commissionable product sales, we know what works.
In fact it's pretty simple:  Find the right products, offer useful/genuine reviews and mix together with added value bonuses and incentives, that takes average promotions with average results and turns them into staggering amounts of cash!
Our sales conversion rates over the years proves that statement (with this simple success formula we typically see 3 to 5 times higher conversions than average affiliates) and we bank thousands of dollars daily doing something that's fun and as helped cement dozens of great friendships and new business relationships.  But while it's simple, it takes a lot longer to do it right (at least it did).
We had to up our game!  A typical bonus promotion using our old WordPress blog took days to prepare and as we schedule two promotions each week the set up was quite literally sucking all the time we had and every minute of the working day.
We needed automation:  We had to reduce our workload, make our lives easier and get more new promotions into the marketplace faster!  That decision took us on a journey that led to Commission Gorilla.
The platform was built from the ground up in partnership with our friends at team MediaKettle.  (Read more about us on this page)  It took months to plan out and a year to complete and incorporates all the features, functionality and little tricks we've picked up over the years...  The result is better than we could have hoped for in our wildest dreams.  
Commission Gorilla has made affiliate marketing fun again - It's taken away 80-90% of the time (and the hassles) building out promotion pages the old way.  It lets us craft new promotions in minutes and clone winning campaigns instantly which means we can promote more great products, venture into new niches and get offers into the marketplace faster than any other affiliates -
But best of all it's made replicating what we do fast and easy for YOU too!
3 Features That'll Give You Back 80-90% Of Your Day!
Bonus Library To Store Your Bonuses:
We've included 4 different bonus block layouts for you to choose from and you can create and save an unlimited number of bonuses in your library so they're always ready to use when you need them for a new promotion.
It's all about speed and convenience:  Making a bonus block is easy, it can be a simple image upload, or you can use the built in WYSIWYG editor to build a custom block from scratch.  The bonus library also saves download/access information to automatically build out your bonus delivery page.
Drag & Drop Promotion Page Builder:
The key to a successful promotion is a great looking page built at speed.  With our drag and drop interface you can fully customize how your pages look, add video, graphics, call to action buttons, social sharing, text blocks and more...
...  In minutes and all without ever touching a line of code!
Simply drop in your on-page elements, select bonuses from your library and save the page.  Make edits whenever you need and the changes will INSTANTLY be reflected across all locations - your hosted by us pages, self hosted and WordPress integrations.  You can also  pause a page and redirect visitors to another URL if needed.
Start Promoting & Sharing Fast!
The second you've finished editing you can be first to market and start promoting your page!
We've built in Twitter, Facebook, Google+ & LinkedIn sharing options for you to use immediately for instant traffic.  And you have the options to download your page (host it yourself), use our free hosting (you get a custom URL) or add the page directly to your WordPress blog with our free plugin.
As a time saving feature the software will automatically build a hosted bonus delivery page for you, simply direct your buyers to this page and they can access their bonuses.
WANT A NITRO BOOSTER IN YOUR ENGINE?
Boost Your Commissions With These Powerful Features!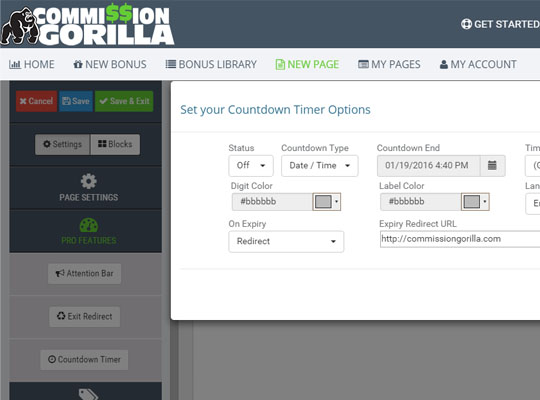 Add Countdown Timers To Your Pages
We use countdown (or scarcity) timers across all our promotions and the results have been astonishing!  By limiting the time your bonus is available you're encouraging your visitors to take action right away or they risk missing out on a great deal.  
You can use date specific or evergreen timers on all your pages with just a few clicks and choose to automatically redirect visitors to any other page when the countdown expires (or simply reset the countdown to start again).  Perfect for product launches and works great for 'set & forget' time sensitive offers.
Add Attention Bars To Your Pages
We love attention bars...  Adding a new bar to your page is simple and it's a truly effective way to grab your visitor's attention.  Set them to display at the top of your page, change the colors and fonts, add a timed delay - It's up to you!
Use your attention bars to highlight a bonus, remind visitors about deadlines, link to demos or videos - You could even use them to link to other promotions or lead capture pages.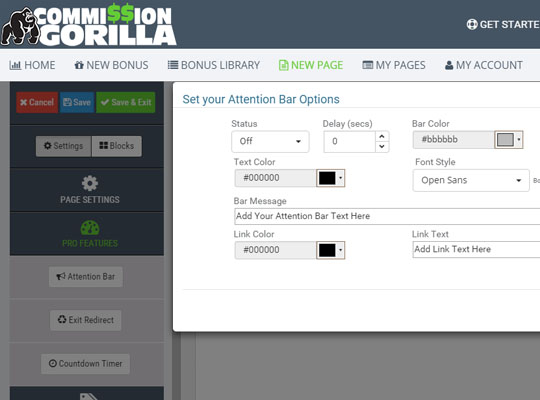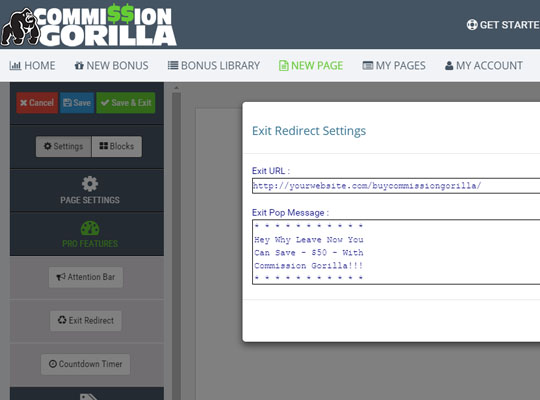 Add Exit Pop-Ups To Your Pages
It's a fact that not everyone who visits your pages will continue to your recommended offers.  Our own testing reveals 50-70% will simply leave no matter how good your bonus is.  But with exit redirects you get the power to recycle this 'wasted' traffic.  
Send leaving visitors directly to the offer page (via your affiliate link) it can easily 'save a sale' , send visitors to a squeeze page to build your list, you can even show another bonus offer.
And Yes!  We've Got Even More Tricks Up Our Sleeves!
You've Seen Some Of Commission Gorilla's Powerful Commission Boosting Features But There's Lots More...
The software automatically generates bonus delivery pages for your buyers as you build out your promo pages.
Set up special 'invisible' bonuses that only show on your delivery pages for ads, upsells and cross-promotions.
See at a glance your best offers, top converters and which of your promo pages are getting most clicks & sales.
Nothing to install or update!  Just login and use.  All future updates & add-ons will be instantly available to you FREE!
Commission Gorilla... Promote New Offers FAST!
You know it's always the affiliates who get their promotions out first who often bank the biggest commission checks.
And with Commission Gorilla you can move from finding a new offer to promoting it IN JUST MINUTES...
Step #1 - Pick A Product To Promote
Commission Gorilla can be used for any type of affiliate promotion across every network - On the JVZoo and Zaxaa networks you can automate your bonus delivery.
Step #2 Launch Page Builder
With the drag and drop page builder you can build pages anyway you like -
Choose colors, drop in bonuses, add text & graphic blocks, buttons, social sharing - it's easy!
Step #3 Drag & Drop Bonuses
Thanks to the built in bonus block library you can set up and use bonuses again and again, store them and simply drop the entire block into your new promotion page(s).
Step #4 Start Sharing Your Page
When your page is complete, use the built in share function to promote it on Facebook, Twitter, Google+, LinkedIn or via email.  
Join All These Smart Affiliate Marketers Today...
Commission Gorilla is the 'go-to' software that's trusted by over 2,000 successful affiliate marketers just like you and we're growing fast, why not join them and take your commissions to the next level...


If You're Not Creating Great Promo Pages You're Missing Out!
Here's what some of the top industry insiders think about our strategies and software...
Seven Figures Via Affiliate Promotions
Jeremy and Simon are consistently on top of pretty much any affiliate contest they choose to enter. Over the last three years on JVZoo they have sold tens of thousands of products and generated well into the seven figures with their affiliate promotions - With Commission Gorilla you get to copy their gameplan and automate it, get it now!
Bryan Zimmerman
CEO @JVZoo.com
Bonus Vault Feature Rocks!
Fastest and most efficient way to create killer promotion pages! The bonus vault feature ROCKS! Love how I'm able to quickly reference my bonuses from one area and easily pick and choose the bonuses I want to give based on what offer I am promoting. Super simple to use, but powerful and saves me loads of time!
Mark Thompson
DigitalKickstart.com
WIN BIG!
We had over 100 affiliates making sales on our last launch, these guys did over 20% of the sales, so you do the maths, they accounted for only 1% of our money making affiliates but brought in over 20% of the total sales and with Commission Gorilla you have a chance to duplicate their promotion methods and WIN BIG!
Paul O'Keeffe
AccruSoft.com
Every Affiliate Marketer Needs This!
"Commission Gorilla makes is dead easy to create an affiliate review and promotion page in just minutes. And the bonus delivery feature is a huge timer saver! Bonuses are a must when promoting anything, no matter the niche. Every affiliate marketer needs to get this software today"
Matt Callen
inetinnovation.com
OUTRAGEOUS Amount Of Sales!
Whenever Jeremy & Simon promoted our offers, they always top the affiliate leaderboard with the OUTRAGEOUS amount of sales and customers they bring in to our business. They didn't just do it once or twice -- but they consistently bring us tons of sales EVERY SINGLE TIME
Welly Mulia
CEO - Zaxaa.com
Always On Top Of The Leaderboard!
Jeremy and Simon ROCK! Every time they support one of our launches they are always on the top of the leaderboard and drive hundreds of sales. Their support and dedication is always amazing and I truly appreciate all the effort they put into their promotions and how they have such a great relationship with their customer base.
Sean Donahoe
IMSuccessCenter.com
One Word For Them As Affiliates - SUPERB!
I've worked with Simon and Jeremy for years and have only one word for them as affiliates - SUPERB! These guys know the affiliate game very well and are able to convert massive sales thanks to their incredible promotion pages.
Thanks Guys. You Rock!
Ewen Chia
EwenChia.com
Increase Conversions & Make More Money!
"Commission Gorilla is incredible and works right out of the box! Easy for anyone to build great looking promotion pages even if you have zero tech or design skills. I highly recommended it to anyone looking to increase their conversions and make more money."
Mark Hess
MarketingInUnderwear.com
And The Plaudits Just Keep On Coming...
Commission Gorilla ROCKS!
"Commission Gorilla levels the playing field for everyone. Easy to use, killer features, and the ability to save a bonus and use again and again is SUCH a time saver... Killer job guys and our go-to app for all our promos now."
Alex Copeland
PocketAcePromotion.com
This Will Save me Hours!
"As an affiliate who has promoted 100's of launches and created hundreds of bonuses I can see how this is going so literally save me hours. Usually when I compile a bonus I spend hours putting everything together, but not any more."
John Thornhill
JohnThornhill.com
Absolutely Freakin AWESOME!
"I always go out of my way to offer awesome bonuses, usually this takes me days to compile all the content, but with Commission Gorilla it literally takes just a few minutes! The best part is that once I have the bonuses created once, I'll never have to do it again"
Dave Nicholson
Dave-Nicholson.com
Best Marketing Product Of The Year!
"Offering bonus products is vital! For all of my future affiliate promotions I will use Commission Gorilla for my new promotion pages. For me it is the best marketing product of the year and a real time saver. Thank you guys for this amazing product!"
Dirk Wagner
InternetMarketingOasis.com
Proven to Work Over and Over Again...
"Commission Gorilla makes a difference, especially where a lot of marketers are promoting the same thing (such as product launches). I've won many affiliate contests using bonuses and Commission Gorilla can help you do the same. "
Eric Holmlund
EricsTips.com
The Secret To Massive Affiliate Commissions!
"I've known these guys for 10+ years and most of the time we compete with each other in JV contests. What most affiliates don't realize is "our" secret to MASSIVE commissions is "offering bonuses"... Commission Gorilla makes it easy for everyone to do the same."
Ian Del Carmen
BonusWholesaler.com
Get These Valuable Extras With Your Account
LIMITED TIME OFFER: Grab Access To Commission Gorilla Today And You'll Get ALL 3 Bonuses For FREE!
This is important, because affiliates who don't know the whole truth struggle with their business and suffer with small commission checks. But once you know how to think like a super affiliate, you'll be able to take your business to the next level.
Plus you'll find out what kinds of niches make the very best targets… for one very surprising reason.
The easiest money you'll make as an affiliate marketer is when you put offers right under the noses of people who are already buying stuff like crazy. You'll find out how to uncover these markets - you'll even get a really slick strategy for discovering niches you never knew existed!
Once you start doing your research, you'll quickly discover there are tons of products for you to promote. But if you pick the wrong one, you'll get your reputation dragged down faster than a feather tied to a bowling ball. Don't settle for small commissions and products that won't sell - this course will show you how to pick the right products for maximum profits!
Listen up, everyone and their uncle is trying to get their hooks into your prospects. Your prospects are as popular as a beautiful super model walking through the halls of an all-male high-security prison.

So you need to get these prospects on your mailing list fast before your competitors beat you to it - and that's why this course shows you how to bait your prospects with an irresistible free offer. You'll love seeing the huge number of new subscribers joining your list every day.
If you've never put together a lead page before, don't worry - it's easier than assembling Ikea furniture, and you won't have any spare parts left over. That's because you'll discover the absolute quickest way to get a professional, high-converting page up and running fast.

People will swear you must be hiring expensive web page designers to create lead pages that look like a million bucks… but you don't have to tell 'em you made the pages yourself using the same tool the top super affiliates use to create gorgeous landing pages.
Almost every affiliate has a blog - but a huge number of these affiliates are completely clueless about how to turn a blog into their #1 sales tool. That's what you'll find out inside this video.

First you'll get a quick and easy way to set up a blog. Then you'll discover what the super affiliates do differently with their blogs that makes them uber profitable… including one super-clever trick taken straight from Publisher's Clearing House. This secret will blow you away - and just wait till you put it to work for you!
The super affiliates make it look so easy, don't they?

Seems like all they have to do is breathe and money rains down on them. They win every affiliate contest. They've got the biggest and most responsive lists around. They're living the dream.

If you've ever wanted that for yourself, then you'll want to pay attention to every second of this video. You'll find out the #1 secret that separates the super affiliates from the super broke affiliates… this may surprise you, and it's the one thing that will make your affiliate business pay you like a broken slot machine!
You know what I'm talking about here. Ever seen an ugly guy with an extremely beautiful woman and wondered how that happened?

I'll tell you what happened - the guy has a mesmerizing way with words. Just like politicians do. Just like teenagers do when they're trying to borrow the car from mom and dad. And just like you will by the time you're finished with this course.

That's right, you'll get a crash course in how to get inside your prospects' head so you can say the right words that get them scrambling to the order button. Once you know how to wield this power, your sales will flow fast and easy like water down a hill.
This is pretty amazing if you think about it. Typically, your job as an affiliate is to whip up some targeted traffic and send it to the vendor's sales page. But smart affiliates know a trick for turning this model on its head. You'll find out how to get vendors to promote your site, send you traffic, and generate sales for you. It's crazy!
Here you'll find three of the top ways to attract cash-in-hand prospects to your website. Once you get these leads on your list and warm them up, then you can send them to your affiliate offers so you can start pocketing those big commission checks.
A profitable promotional tip that reveals how to make 500% more profit for the exact same amount of clicks to your affiliate link.

This simple tactic can easily be implemented within minutes and literally anyone can do it.
This 'hidden in plain sight' Super Affiliate's secret is key to banking consistent commission checks month after month.

For you it's a guaranteed way to boost your monthly affiliate income without working a single minute more than you do right now.
How to get customers to buy from you instead of your competition. This is one of the most effective affiliate marketing techniques of all-time for "stealing" customers from other affiliates promoting the same offer as you.

(Note: This strategy alone has been responsible for netting over $1M in commissions)
How to get an instant commission boost - This 'age-old' strategy to banking bigger paychecks has been around way before affiliate marketing.

You can do it today with almost ZERO effort (I even include a copy & paste template) and you see your income explode within 24 hours.
How to put other people to work promoting affiliate programs for you.

YES SERIOUSLY!! This massively powerful strategy reveals how you can quickly see a spike in commissionable orders because dozens, hundreds and sometimes even thousands of other people can easily be convinced to generate sales for you.
A special "kind" of article or guest blog post that will always leads to extra orders through your affiliate link.

(3 examples included)
How to play the "numbers game" and win at affiliate marketing.

This is something that's almost too simple, but it IS a legitimate way to increase your commissions so it's included as one of the twenty five "proven strategies".
You'll discover the one thing potential buyers are always looking for and how to use it to maximum advantage to convince them to buy a product you're promoting.

Plus the 8 key elements to look for before deciding what products to promote - learn how to cut through the hype to put the most cash in your pocket.
The "Five Figure Commission Formula" complete with examples and an actual email template you can swipe to put this formula into practice immediately.

Need to make some serious money this week then put this strategy to work right now!
How to use the 'PiggyBack' tactic to make sales even if there are thousands of other people promoting the exact same product you are promoting.

PLUS+ Simon's "30 day free training program" strategy that virtually guarantees extra orders through your affiliate links across MULTIPLE programs.
You'll get the 3 keys to creating big commission checks like the super affiliates - if these keys aren't part of your business plan, then you're just playing around in the affiliate kiddie-pool!
You'll find out a little-known yet extremely profitable tactic for making money when delivering a free bonus gifts to buyers-hardly anyone does this, but those who do are quietly making a killing!
You'll find out a surprising way to ride the coattails of the vendor's promotions and other affiliate's hard work to pocket your own big commissions-sneaky yet effective!

Plus+ A devious way to overlay your bonus offers on top of a vendor's sales page - it's not hacking, but it's a deadly effective way to crush your competition!
You'll also get 4 tips for instantly boosting your affiliate income, including one quick and easy way to give yourself a fast pay raise!
And If You
Act Today

You're Also Guaranteed These 3 Extra Bonuses
(Click On The Images Below To See Them All)
- Order Before The Countdown Hits Zero Below -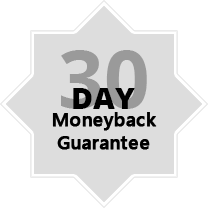 Commission Gorilla for 30-Days Risk Free
If you want to boost your affiliate commissions and claim your share of all that leader board prize money, you'll love using Commission Gorilla. It's super-easy to use, requires no special design skills and can be mastered in just minutes... In fact we're so confident that you will absolutely love Commission Gorilla that we are offering a 30-Day, no questions asked, money-back guarantee… So Why Not Get Started Today!
Get Commission Gorilla Now!
NO MONTHLY FEES - FULL PRO VERSION - 30 DAY SATISFACTION GUARANTEE
Lock In At Just $49 Per Year OR Grab A

Lifetime Account

Choose An Option Below:
"Drag and Drop" App for Newbies & Professionals!
"Commission Gorilla lets you design stunning, professional pages with no tech skills and without high price designers - The free hosting which means you can get started without a domain name or website is HIGHLY recommended!"
Dr Amit Pareek
bizomart.com
A Must-Have for Every Affiliate Marketer!
Creating bonus offers used to be right royal pain in the ass. Not any more. You can have a pro-looking promotion page which will practically "hypnotize" people into buying through your affiliate link rather than anyone else's. This truly is a "must-have".
Michael Cheney
MichaelCheney.com
Awesome Product from a Great Team!
"I Love Commission Gorilla! This will help established and newbie affiliate marketers alike. I love telling folks about your products because your post purchase support is always backed up by a solid team. A great product that I'm happy to recommend!"
Andrew Fox
Zapable.com
Frequently Asked Questions & Answers
Is Commission Gorilla Easy To Use?
YES! 'Ease of use' has been our #1 priority all throughout the development of the software. There is nothing to install, just create your account and login to begin making your pages. You can preview the results as you go along and can go back and edit live pages in your dashboard with our drag and drop builder anytime you choose.
Does Commission Gorilla work with WordPress?
Commission Gorilla is a web based software application (SaaS)... But if you have a WordPress blog or multiple blogs, no problem - We've built a special WordPress plugin that connects to your account and allows you to integrate all of your Commission Gorilla promotion pages directly into your blog. It's really easy.
100% FREE Page Hosting Really?
YES! We developed Commission Gorilla to help you get more sales and commissions without any fuss, so we've got you covered for unlimited visits to your pages, unlimited bonus deliveries all hosted by us. We want you to get amazing results and don't want to limit that.
Sure Thing! While you can use our FREE page hosting for speed & convenience, you can also download your pages and add them to your own domain(s) for branding or use the WordPress plugin to integrate them into your blog.
Plus+ you can edit and update your pages in your dashboard and make the changes live across both hosted and self hosted pages in just one click.
Are there upgrades behind this front end offer?
YES! There's some really cool stuff waiting for you on the next few pages... BUT YOU DON'T NEED TO UPGRADE to enjoy all the benefits of Commission Gorilla - You get the full Pro version of the software and all the benefits you've seen here for an entire 12 months.
And you'll be able to renew next year at the same special discounted fee (lock in now to guarantee lifetime savings) 
There's a special "Ready Made Bonuses' deal for all buyers (to save you more time) and you'll see it after you join us along with some other cool stuff only CG owners get to see.
I'm A Vendor - Can I Use Commission Gorilla Too?
NOT YET BUT ALMOST...
If you want to use Commission Gorilla to create & manage promotion pages for your own affiliates to promote your products we'll soon have an Vendor add-on available.  With this you'll be able to manage ready made promotion pages, give your affiliates a simple link and they can start promoting  in seconds.
A big time saver for them & guaranteed better results for you. The vendor add-on will only be available to existing users on its release so you should still take advantage of our offer today.
What The Heck Are Invisi-Bonuses?
Okay we agree it's a strange name (but we couldn't come up with a better one)...
You can create 'Invisi-Bonuses' and add them to your page, they don't show up on your promotion pages but they will show up on your bonus download pages.  That means you can use them for un-advertised bonuses, complimentary offers even ads to further monetize your bonus deliveries.  (We've used this strategy for years and it can add thousands of dollars in extra profits to every promotion)
Is Commission Gorilla suitable for all browsers?
Yes Commission Gorilla promotion pages are designed to look great in all popular web browsers including: Internet Explorer, FireFox, Chrome & Safari and mobile too. You can use any browser to visit your dashboard but right now you will need to edit and set up pages via your desktop.
If you still have an unanswered question (sorry) we'll be happy to help you - Just click on the chat icon at the bottom of this page and one of our team will get back to you fast :-)